Earning a bunch of money! That's the goal of your business, right? In this blog, we discuss what it means to be a meaningful business and how you can become one. We will jog past the purpose, or the reason your business exists, and take a peek at how we want to work together, the values. Of course along the way we will share some tips as to how you can implement this in your business or organization.
Henriëtte is a friend of Voys. She creates magic with words and takes a fresh look at the topics we love to talk about. In this 6 part series, she explores the world of Voys. She shines a light on the different themes that appear in the Voys Handbook and in our book "Only Bosses" (currently available in Dutch under the title "Alleen maar Bazen"). This way you can find out if the books or our way of working are something for you. This blog post was originally posted in Dutch. If you enjoy this article and want to know more, you can also sign up for our founder's newsletter to get our latest blog posts in your inbox.
Since you are still awake and alert, we will start with a little bit of theory. There's 3 types of values that a company can deliver: shareholder value, shared value and system value.
Although shareholder value only benefits shareholders, system value allows a company to be a part of the community. You can create this value by becoming a meaningful business.
A touch of idealism
In a meaningful business, the focus isn't just on making your shareholders, customers, and colleagues happy. You are also trying to give society and everyone in it a helping hand. It sounds idealistic, and it is. To be a meaningful business, you need three things:
business model: to create value for your customer and business
fulfillment model: to create personal value for everyone who works there
improvement model: to create social value and a sustainable work environment
You can accomplish these three things if everyone contributes and believes in it. As you know, we are a self-managed company. This way of working helps us to ensure that we are all working towards the same goal, because the whole company contributes to realizing our company strategy. If your company isn't ready for a switch yet, or if this way of working isn't for you, that's fine. You can also be a meaningful business with a traditional management system.
Pride over profit
If you want colleagues who fully support this idea, who feel responsible for the business and being good ambassadors, then you need to make them responsible. That means that as a boss or manager you need to give that responsibility away.
But that takes time. 'And money", I hear you say. Which is true, but you get so much in return. Our evaluation and strategies sessions we do every half year at Voys are a good example. The process takes about a month because everyone participates. In return you get a good organizational-wide strategy, with clear goals that everyone understands and feels connected to. That puts pride in everyone's work!
Not to brag, but the above example is one reason why people like to work at Voys. That's because you have the freedom to think along, freedom to make choices, the freedom to make mistakes, and the freedom to grow. These are all things that help you enjoy working and help your productivity, and also bring us close to our overall goal, which is our purpose.
Back to basics: core values
How do you start then? By going back to the beginning. The foundation of every organization is the core values. These make processes clear for everyone. They describe how you want to work together. In the end you have a list of three to six points that form the DNA of your business. At Voys we started with six core values that we have narrowed down to four.
Open
We are and work openly and transparently. We look at things with an open mind and share our knowledge. (look at our public colleague handbook and our blogs.)
Supportive
We care about our organization, the work we do, and the people we do it with. We are friendly and helpful.
Equal
We treat everyone the same, because we are all different, but also all the same.
Evolving
We love change and try to be 1% better every day. This way we continue to grow.
Core values are not only handy when becoming a meaningful organization, but also in the normal working environment. If there is ever a disagreement with a colleague, you can always refer back to the core values.
We expanded more on these values in our principles. If you want to know more you can ready about it in the Voys handbook which is available online (another way we hit the mark on being open and transparent.)
The reason we exist: our purpose
Next, let's take a look at the reason for existing, either for you or for your business. It's not the same as a marketing message or slogan. Its deeper than that: its not just about the business model, but also about your colleagues and the total collaboration. If you work in a boring company, you might call it the mission statement, but no one wants to work at a boring company. We formulated our purpose like this:
Giving people an equal voice.
For daily work purposes we transformed it to: We are in business to connect people. You can find this purpose in how we try to be a meaningful company:
business model: we connect people through our technology
fulfillment model: we work as equals, both internally and externally
improvement model: our foundation 48percent.org strives to bring equitable access to connectivity worldwide
Believe in it yourself
At Voys, we take it another step further. To better show what kind of impact we want to and can have, we formulated our beliefs. This is how the world would look if we have free reign (soon you will call us a religion or cult, but give us the benefit of the doubt). For you to have a clear understanding, we linked them to the point above.
business model: we connect people through our technology
We aren't done until everyone can come in contact with each other on an equal playing field. Not with apps that used closed protocols, but open and accessible communication like how calling used to be. For that reason we need to develop open and safe software, that anyone can use or make changes to.
fulfillment model: we work together as equals, both internally and externally
Working as equals should be the global standard. Businesses are usually focused on shareholder value and the managerial hierarchy that goes with it. By focusing more on system value, you can change that. You can see how we are at Voys as a living experiment. We continue to inspire and hope to convince people to change to another way of working. (Do you want more inspiration about this straight in your email inbox? Subscribe to our newsletter).
improvement model: our foundation 48percent.org strives towards equitable access to connectivity for everyone
If you haven't heard about 48percent.org yet, go check out their website when you are finished reading this blog post. What began as a brainwave from Voys-founder Mark Vletter has grown into a full-fledged foundation that supports many projects worldwide. The goal: making the internet a public infrastructure; accessible and affordable, with the right training and safety measures for everyone. They are working on projects on the other side of the world, but also in our own backyard.
The end game
Now you have a good idea of what we believe in. These beliefs all lead to our ultimate goal:
Our end goal is to pave the way for a more equal society in which people have an equal voice. Only then can everybody make their voice be heard and participate to the fullest of their abilities and ambitions. That is our reason for existing.
Granted, working out exactly what your beliefs are might be going a little too far for your company or organization. Do you want to work towards being a meaningful organization? Make sure that the what and they way (the core values and the purpose) are clear. Our beliefs and end goal can also inspire you. It doesn't need to be over the top, but if you really want to become a meaningful business, it's good to ponder about it further – you guessed it – with your whole team.
Taking a turn towards strategy
Now that the core values, purpose, and end goal are clear, you can start on your strategy. A strategy should be clear enough to give direction yet flexible enough to be adaptable. Mark Vletter compared a strategy to hitchhiking. You choose the destination, but the route isn't set in stone. And if you happen to end up somewhere else, that is also okay. Just as long as you have a clear end goal, that point on the horizon to head towards. Otherwise you don't know the destination to write on your piece of cardboard and that makes hitchhiking complicated.
Cliffhanger! How you build and maintain a strategy and how you include your whole organization is something we explain in a future blog post. (This story is already long enough).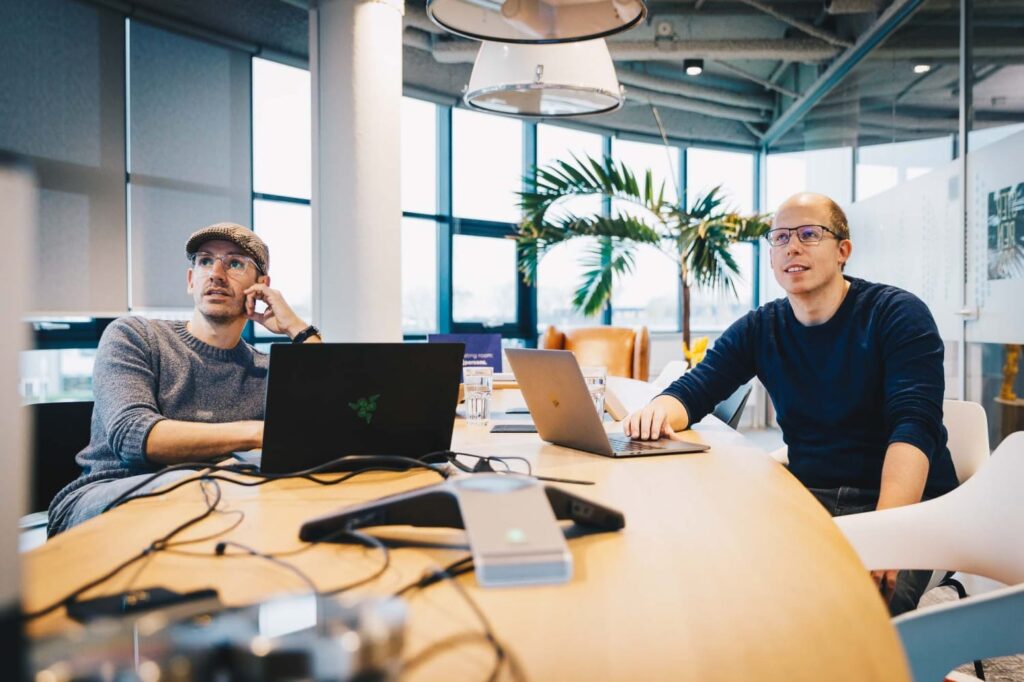 Not words, but deeds
Before you send us an email asking us if we follow up our big talk with actions: yes we do! It's also important that you do as well. Do you want to start working without managers? Know that your word is no longer law. Do you really want to work together as equals? Throw your current evaluation system out the window and let colleagues give each other feedback. Here's how we do it at Voys:
We work self-guiding without managers.
Giving feedback and critiquing each other follows a specific structure.
We like to share our mistakes as well as our accomplishments.
1% of our earnings and up to 5% of our time goes to 48percent.org
We work on our open communication technology.
We like to participate in programs for kids.
We compensate for our CO2 output and try to keep our ecological footprint as small as possible.
We create inclusive products.
We are careful with data.
What do you do to be a meaningful business? Let us know at spraakmakers@voys.nl or get started with our tips today.